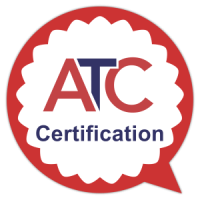 ATC Certification provides industry expert ISO certification and auditing services and training to language service companies across the world.
ISO interpreting standards
There is a lot happening with ISO standards for interpreting right now!
Client-side organisations in both the private and public sectors are becoming increasingly aware of ISO standards relating to interpreting, and companies providing both spoken and non-spoken interpreting services are coming to ATC Certification to enquire about certification to interpreting standards.
The baseline ISO standard for interpreting services is ISO 18841. It is an international standard that establishes basic requirements for the provision of interpreting services including the qualifications and competencies of interpreters, and recommendations of good practice.
Under the umbrella of the 18841 for interpreting, there are now three sector-specific standards:
ISO 20228 for legal interpreting
ISO 21998 for healthcare interpreting
ISO 23155 for conference interpreting
ATCC now certifies to ISO 23155
ATC Certification also now offers certification to the newly-published ISO 23155 for conference interpreting services, which includes requirements and recommendations for the provision of conference interpreting services. It is primarily addressed to conference interpreting service providers and conference interpreters. It also offers guidance and assistance to users of conference interpreting services.
In the ATCC blog, conference interpreter, ATCC auditor and ISO expert Dr Mohamed-Ali Ibrahim talks about the growing market for ISO certification for interpreting services:
https://atccertification.com/meet-the-auditor-mohamed-ali-ibrahim/
BSL interpreting and ISO 18841
ISO 21998 is the international standard for healthcare interpreting services, including requirements and recommendations for both spoken and signed communication. The standard defines a number of required competencies throughout the healthcare domain as well as formal qualifications which interpreters must evidence and keep on file.
In the ATCC blog, ATCC auditor and Registered Sign Language Interpreter Sarah Vann Brooke tells us more about BSL interpreting and the role of ISO 18841:
https://atccertification.com/bsl-interpreting-and-the-role-of-iso-18841/
Translation, interpreting and management system standards
ATC Certification offers certification to ISO standards for translation and interpreting services, and to the main management system standards:
ISO 17100 Translation services
ISO 18587 Machine translation post-editing
ISO 20771 Legal translation
ISO 18841 Interpreting services
ISO 20228 Legal interpreting
ISO 21998 Healthcare interpreting
ISO 23155 Conference interpreting
ISO 9001 Quality management
ISO 27001 Information security management
ISO 14001 Environmental management
ISO 22301 Business continuity
Stay in touch with ATCC
Stay on top of ISO standards news and developments with the ATCC: