Accredited Partner status is available to those companies who are stakeholders in the translation industry, for example office furniture suppliers.
Accredited Partners benefit from the following:
Companies that are stakeholders within the translation or interpretation industry and supply other services such as banking or financial services, legal services, facilities equipment and other services are eligible for ATC's Accredited Partner status.
Accredited Partners are encouraged to offer all ATC members purchase incentives on their offering in addition to their membership fee.
Fee
£1200 plus VAT
Please read these guidance notes before applying to join the ATC.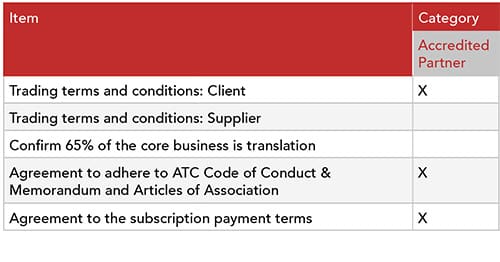 To become an ATC Technology partner, please email secretaty@atc.org.uk