Membership of the ATC is available to translation departments within companies whose core business may be in any sector.
To be eligible to be a Corporate Member, although 65% of your core business is not providing translation services, your business does have a translation department within the organisation.
Fee
£750 plus VAT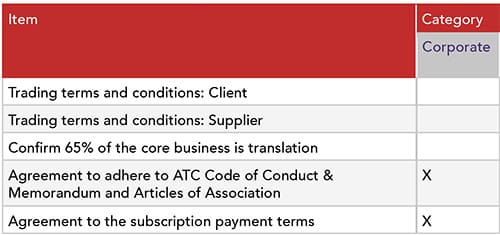 Please read these guidance notes before beginning your application to join the ATC
Once you are ready to begin the process, you will be asked to create an application account by completing the form and paying a non-refundable £50 administration fee. Upon receipt of the fee, you will be able to login to your account and upload the supporting documents as they become available.
Please note: documents must be in English and you will not be able to 'submit' your application until all the required documents have been uploaded.