Membership of the ATC as a Supported Start-up is available to start-up Language Service Provider businesses that have been trading for over six months who are able to provide the supporting documents outlined in the Eligibility and Criteria section. As a member of the ATC, there are substantial business, financial and legal benefits available to your business and employees. These include:
To be eligible to be a Supported Start-up, your business must have already been trading for a minimum of six months.
Start-up membership is only available for 12 months, after which you will be required to apply for Regular Membership. Start-up members will also be performance-reviewed after six months to ensure they are operating to ATC's expectations.
Fee
£125 plus VAT (six months)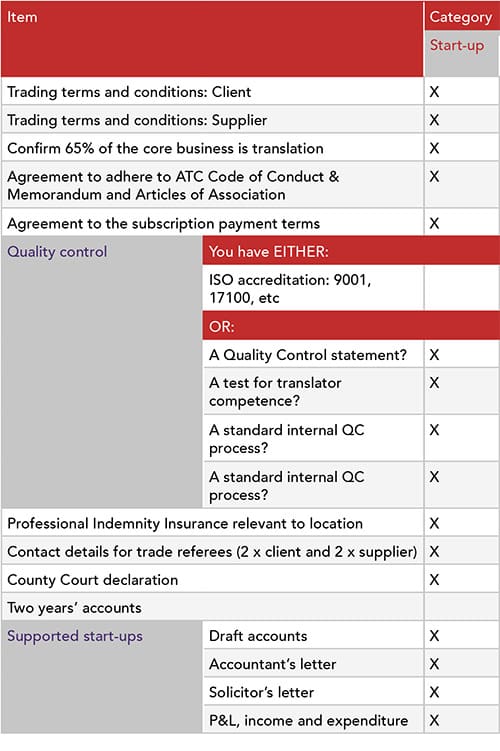 Please read these guidance notes before beginning your application to join the ATC
You will need to request some supporting documents from third parties to successfully apply for membership to the ATC. These are detailed below and it is recommended you review these requirements before proceeding.
Once you are ready to begin the process, you will be asked to create an application account by completing the form and paying a non-refundable £50 administration fee. Upon receipt of the fee, you will be able to login to your account and upload the supporting documents as they become available.
Please note: documents must be in English and you will not be able to 'submit' your application until all the required documents have been uploaded.