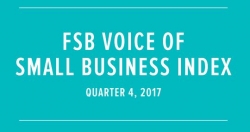 The Federation of Small Businesses's latest economic survey makes interesting – if gloomy – reading as a record number of UK SMEs say they are planning to close down or sell up because of weakening demand since the Brexit vote.
One in seven respondents to the FSB's quarterly survey of 1,084 SMEs said they were planning to close, sell or downsize their business in a report which also revealed that confidence dropped for the fourth quarter in a row.
But it's not all bad news, as the FSB's Small Business Index for Q4 2017 showed nearly one in five small businesses expected exports to increase during the next three months, giving new opportunities for translation companies to work with exporters on potential deals.
Our own recent annual market survey of the UK's language service providers also revealed our sector is more buoyant than the FSB's findings as the UK translation industry grew by 7% in 2016 and will have grossed more than £1.15bn in 2017.
We found favourable exchange rates, which the FSB said would support UK exporters in the coming months, fuelled the surge in the languages sector. More than half of the UK's £1.15bn translation revenues came from overseas clients.
Another influential survey – the Aldermore Future Attitudes report from Aldermore bank – presented a more optimistic outlook when it revealed earlier this month that half of UK SMEs expecting to increase business revenues would do it by stepping up their marketing efforts.
Its survey of 1,008 senior decision makers in SMEs across the UK also indicated potential opportunities for translation companies looking for new clients as it found a third planned to grow their business by entering new markets.
[1] 
Q4 2017 FSB Small Business Index
[1] 
UK Language Industry 2017
[1] 
Aldermore Future Attitudes report