The Association's activities are guided by its council and elected officers. The current officers of the Council are found below.
Officers may be re-elected once (serving a total of six years). Council will only re-elect beyond this period in exceptional circumstances. Members can serve a maximum of 4 years and may stand for a further four-year term before retiring from the Council.
Roy Allkin
Chairman
ATC Chairman Member ATC Membership Committee Member ATC Conference Organising Committee Roy Allkin is the founder and Operations Director of Wolfestone, owner and Operations Director of Robertson's Languages International, and founder and Operations Director of VoiceBox. Roy studied History for his first-class Honours Degree before going on to achieve a Masters Degree with distinction in Business. In addition to the companies he has established and successfully developed, Roy's career has seen him work as a General Bar and Restaurant Manager in London, an Enterprise Director for a business development agency and as a National Commercial Development Director and CEO for a national charity. Utilising his extensive experience in commercial development strategy his primary focus now is ensuring the Wolfestone Group of Companies fulfils its huge potential. Roy sees a pivotal role for the ATC in raising standards in the industry and promoting the highest degree of professionalism possible.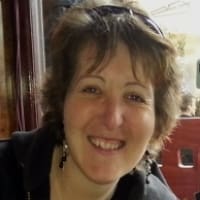 Ruth Partington
Vice Chair
Ruth Partington, Founder, RP Translate Council Vice-Chair Chair Membership Committee Chair Summit Committee Ruth Partington graduated in 1986 with a degree in Russian and Italian from the University of London. She became a part-qualified Chartered Accountant, worked extensively in customer service and finally founded the translation company, RP Translate, in 1993 after freelancing for a short period. Ruth's linguistic background coupled with technological expertise meant that the company was able to specialise in electronically-tricky languages, such as Russian and Chinese, and has since built up a strong reputation for handling complex IT scenarios. RP Translate now operates exclusively in the niche area of Market Research Translations as one of the UK's leading translation agencies. It won Young Business of the year in 1997, with Ruth herself winning Bedfordshire Businesswoman of the Year in 2000, and Ruth attributes ongoing success to the adoption of ever-changing technology, looking outside of the translation industry for inspiration and innovation. In addition to RP Translate, Ruth has been an active member of the Young Enterprise Scheme and a strong advocate for helping young people realise their potential through empowerment and knowledge. She has also served on the board of the eating disorder charity, Caraline and has acted as business mentor for the homeless people's charity, Noah. Ruth believes that translation is pivotal to promoting greater understanding between different creeds, cultures and races, and that the whole industry – from one- and two-man bands to larger companies – deserves a strong national and international voice for the role it plays in global affairs.
Cherie Plaice
ATC Treasurer
Cherie Plaice, Founder, Wordfish Translations ATC Treasurer Membership Committee Summit Committee Cherie graduated with a degree in Applied Language Studies (Spanish, German, Linguistics and Economics) from Ealing College of Higher Education, which at the time was a pioneer in applied language degrees. She then went on to gain a distinction in Hispanic Studies at post-graduate level and become a member of both the Institute of Translation and Interpreting and the Chartered Institute of Linguists.
Prior to working in the translation industry Cherie had a varied career in entertainment, teaching and working in the City. She founded her translation company in 1988 after realising that a bridge was needed between businesses and translators to ensure that the business requirements were met and that the appropriate translators used. Cherie actively project manages most of the work carried out by Wordfish Translations and is passionate about customer service and supporting smaller businesses in the translation industry.
Isabella Moore
Council Member
Isabella Moore CBE, Co-Director, Comtec Translations Chair, PR & Public Affairs Committee Member ATC Ethics Committee Isabella is Co-Director of Comtec Translations , which Isabella originally founded in 1986, sold in 20002 and re-acquired with daughter, Sophie Howe, in 2007,a leading company providing technical translation and multilingual documentation services to exporters in the manufacturing, creative, e-learning and computer software industries with healthy business growth achieved through the development of a customer-focused company committed to quality and continuous improvement. Other focus and interest has been the interface between business activity and public policy in relation to language skills and women's enterprise. From 2002 to 2004 first female President of the British Chambers of Commerce and Vice-President of Eurochambres, the association of European Chambers of Commerce, Chairman of the Confederation of West Midlands Chambers of Commerce and from 2004 to 2008 CEO of CILT, the National Centre for Languages. In these roles Isabella initiated research on the effect of language skills on the performance of SMEs across EU member states and was member of a High Level Group on Multilingualism, which made recommendations to the European Commission on EU wide policies. Isabella holds Honorary Doctorates from Sheffield Hallam University and Aston University for services to industry and languages and honorary Fellowships from the Chartered Institute of Linguists and Institute of Translation and Interpreting. Isabella's involvement in the area of women's enterprise has been as Chair of the National Women's Enterprise Panel, President of the Eurochambres Women's Network. She is currently undertaking doctoral research at Aston University in the field of entrepreneurship for women of 50+.
Through her company Jigsaw Quality Management and Audit Solutions, Sam supports businesses in the development of a tailored Quality Management System, allowing them to take ownership of their system, building awareness of the value and benefits that an effective QMS with robust company processes can bring to the business. Sam works closely with clients throughout their journey to ISO certification or improvement of existing systems and further offers training in ISO 9001, 14001, Continual Improvement and other management techniques such as Lean to enable the ongoing development of the company QMS.
Paul Stewart
Council Member
Paul Stewart is director of Wessex Translations Limited, the longest standing member of the ATC. Paul holds the National Diploma in Agriculture from Harper Adams University, and a Diploma in Management Studies. Prior to buying into Wessex Translations in 1981 his business career was primarily in sales and marketing, including Michelin Tyre Company and Esso Chemical Limited.
Now part time at Wessex, Paul still plays an important role in the overall governance of the company, sales, marketing and development of strategy. Paul also works on the ATC's ISO Mirror Group, to ensure that the views of UK LSPs are represented in the development of international standards for our industry.
Levent Yildizgoren
Council Member
Levent Yildizgoren, MD, TTC wetranslate Levent is the Managing Director of TTC wetranslate . He is a seasoned English-Turkish translator and a PRINCE2 qualified project manager. Levent has been in the translation industry since 1992.
He regularly writes blogs and articles and speaks about overcoming language barriers and the importance of multilingual communication. Levent loves cycling, swimming, video games. He regularly participates in activities supporting charities.
Lynn Everson
Council Member
Holding an MA in Translation Studies, Lynn is both MCIL (Spanish) and MITI (French). She founded Lifeline Language Services in 1990 in order to provide emergency response language to the haulage industry, and today employs 12 in city-centre offices in Preston. Lifeline is now a full-service one-stop LSP providing comprehensive interpreting, transcription, typesetting, translation and multimedia services to an international client base. Specialisms include logistics, insurance, agrifood, and health & safety.
While as MD Lynn is strategy and CRM-focused, she also enjoys mentoring her in-house team of well-qualified linguists and works with schools and colleges to encourage students to consider careers in languages. Lifeline has enjoyed ATC membership for over 20 years and Lynn continues to help the organisation further professionalise the language industry. Lynn was National President of BPW UK (2013-16), an organisation for professional and business women that aims to help women achieve their full potential on the world stage. She is also Vice Chairman of WAC-UNA UK and a Trustee of Widows Rights International.
Mark Robinson
Council Member
Mark Robinson, MD, Alexika Member of the ATC PR and Public Affairs Committee Mark has a degree in German Studies from the University of Lancaster, a Diploma in Translation from the Chartered Institute of Linguists and an MBA from Cranfield University.
He is a Fellow of the Chartered Institute of Marketing and a Member of the Chartered Institute of Linguists. Mark is Managing Director of translation company Alexika Ltd. Prior to co-founding Alexika Ltd in 1998, he spent 10 years in marketing and export management roles in manufacturing industries and has led marketing projects throughout Western and Eastern Europe as well as in South Korea, South Africa and Saudi Arabia. Today Alexika has a team of qualified linguists serving a wide range of service and manufacturing industries around Europe.
Christine Weightman
Council Member
Member ATC Standards & Ethics Committee Member ATC Marketing & PR Committee Christine Weightman, Founder and Director of ETLS International, created her translation company in 2003 after an earlier career in the fields of management, public affairs, corporate compliance and legal affairs for international non-profit organisations.
ETLS International helps its diverse clients with all their technical and marketing translation needs, enabling them reach new markets, build bridges into different cultures and expand globally. Its Legal and Financial branch, ETLS Lexis, caters to the specialised needs of these sectors. Christine has a keen interest in human rights, sustainable development as well as language and cultural diversity. She decided to use her professional experience in the fields of public & legal affairs for the benefit of the translation industry and joined the ATC Council where she is a member of the Standards & Ethics Committee as well as the Marketing & PR Committee.
Raisa McNab
Council Member
Raisa McNab, Learning & Development Manager, Sandberg Translation Partners (STP) Council's Lead on Standards
Raisa oversees the ATC's ISO Certification Service, and works together with a group of LSPs and experts on developing language industry ISO standards through the ATC's ISO commenting group. She is also a member of the ATC's CPD Committee, developing training events and webinars for ATC members worldwide. Raisa holds an MA in Translation & Interpreting from her native Finland, and works as Learning & Development Manager at Sandberg Translation Partners, an ATC member company specialising in the Nordic languages and English.
Mireia San Jose
Council Member
Mireia San Jose,  Account Director, Asian Absolute
Mireia is responsible for maintaining the highest level of client satisfaction for Asian Absolute's clients. Her role is key to ensuring that Asian Absolute fully accomplishes our mission to provide quality services which exceed the expectations of our clients.
Mireia is in charge of developing and maintaining relationships with clients, and usually gets involved in developing solutions for large, complex or unusual projects. In parallel she continuously works in close collaboration with our Project Managers, and contributes to building the overall strength and performance of the team. If for any reason a client needs a more senior contact to work with our project manager, Mireia is the person to talk to. Most requirements escalated to her can be sorted out quickly and simply. Mireia has over a decade of experience in the translation and localization industry, and has been with Asian Absolute since 2010. She holds a Masters degree in European Union and European Communities, and post graduate qualifications in Audiovisual Translation as well as Translation and New Technologies. She's SDL Trados certified and has an in-depth knowledge of CAT tools. Starting as a translator and then moving into project and account management positions, Mireia has worked for some of the largest multilingual Language Service Providers in Spain and in the UK. Speaking Spanish as mother tongue, Mireia is also fluent in English, French and Catalan and has good knowledge of Italian and Greek. Whenever Mireia has the chance, she likes travelling and, in particular, grabs any opportunity to fly to Spain, where she enjoys spending quality time with her family and friends.
Dan Peachey
Council Member
Dan Peachey, Commercial Director, Intonation Ltd./ City Legal Translations Dan Peachey is Commercial Director at Intonation Ltd. and its sister company City Legal Translations.
Following the completion of a degree in French and German, Dan completed a Postgraduate Diploma in French Translation at Southampton University and began work as a Project Manager at Intonation Ltd., an LSP in Fareham focusing mainly on technical, marketing, sport and IP related translations, as well as operating a specialist legal and financial division, City Legal Translations. Taking over the day to day running of the company in 2011, Dan has overseen the acquisition of two other ATC members, UPS Translations and WORDtrans and led Intonation to being named the "Fastest Growing Language Services Provider" in the UK by the ATC in 2016. Dan's industry experience includes being a member of the ATC ISO Standards commenting group and being the Vice Chairperson of Eulogia, an alliance of translation companies with one member per EU language.
Bernadette Byrne
Council Member
Bernie Joined the ATC as a council member in 2014 and is a member of the Marketing, PR and Events committee. She has a passion for languages and graduated in 1994 with a BA Hons in Applied Languages (French and Spanish) from Ealing College. She has worked in the localisation industry for over 24 years, working in International operations and sales management and most recently as a Board member and voice of the customer champion at thebigword. Bernie is currently working as an independent advisor to thebigword board providing oversight on a strategic government contract. Passionate about Voice of the Customer, Bernie has many years' experience in managing senior client relationships with Global FTSE 100 and UK and US Government Departments. Her champagne moment was being awarded the UK Cross Government Languages services Framework in 2006. This was the biggest contract thebigword had ever secured and it started with listening to what the customer wanted. As a trusted adviser to the government she developed and presented a credible case which resulted in winning all three language services Framework. Over ten years later Bernie continues to work closely with government departments and has attended a select committee hearing on an advisory panel for the Ministry of Justice Advice Committee Procurement, helping them re-shape their future procurement strategy. Bernie played a pivotal role in transforming thebigword from a start up in the early 90's into a global localisation company with a turnover of over $100m. Bernie is currently on the Advisory Board of a tech start up, an Angel investor championing women entrepreneurs and has recently launched a Voice of the Customer Consultancy called Service Reality.