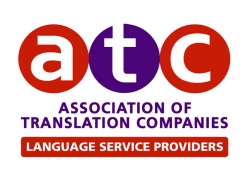 The Association of Translation Companies (ATC) and Aston Business School have teamed up to launch a unique research project, designed to influence the future prosperity of the UK's small and medium-sized enterprises (SMEs).
The ATC, the language sector's leading professional body, and Aston Business School have partnered to fund a three-year £59,000 PhD study looking into language capability as a means of driving sustainable competitive advantage for UK SMEs. Prospective students are being invited to respond to the study outline and submit a research proposal. It is expected that the study will commence in October this year.
Proposals are being asked to address language capability in SMEs and/or global cultural sustainable competitive advantage that extends our current knowledge and understanding of these issues within a business context.
Dr Geoff Parkes, Aston Business School comments: "Given the economic challenges faced in today's competitive environment and recent events in the UK, including Brexit and our forthcoming exit from the Single Market, it is becoming more challenging for UK's small and medium-sized enterprises to compete.
"In the current globally and culturally diverse business environment, foreign language proficiency is one of the most important business skills to build relationships with customers, overseas clients, buyers, and suppliers. And, as we leave the Single Market, SMEs will need to be self-sufficient in negotiating export terms in new markets, so such language skills, or having a clear understanding about how to go about commissioning professional external language capabilities, are set to become even more critical."
Isabella Moore CBE, a leading member of the ATC council, Director of leading West Midlands translation company Comtec Translations, and a former President of the British Chambers of Commerce continues: "The UK government has repeatedly emphasised that improving exports is one of the best ways to rebalance the UK economy. Despite this, the UK has been struggling to improve its trade deficit.
"Large organisations with the advantage of size and resources, and increased competition from countries outside the UK, have made it more difficult for SMEs to survive in the current competitive global market. Consequently, it is important to help SMEs to improve their export performance.
"The aims and objectives of this study are therefore to investigate how language skills, sourced both internally and externally, can help the UK's SMEs to create a sustainable competitive advantage; and why it is important to invest in language skills and understand the barriers that prevent SMEs from fully utilising language skills and professional services."
In addition, the project aims to develop a reliable and valid scale that can be used across SMEs to help assess the language skills that are required against current competencies within an organisation, and the attitudes and willingness to implement them.
Candidate selection will be based on the evaluation of a completed online application form, a detailed research proposal of up to 5,000 words, and two academic reference letters, which must be submitted ahead of 15th August 2017.
Aston's Dr Parkes concludes: "This really is a unique opportunity for a student to positively shape the future of this country's economic performance – we very much look forward to reviewing all submissions and to working with the successful candidate over the next three years to develop their findings."
For further details on requirements of the application and research proposal please visit http://www.aston.ac.uk/study/postgraduate/apply/.