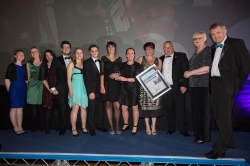 The Government needs to take action now to ensure there are enough home-grown translators in a post-Brexit Britain where effective global communication will be vital for the economy's future, according to the Association of Translation Companies (ATC).
It is making the call as a dwindling number of young people are studying modern languages at school or university, according to a new British Council report – Languages for the Future[i]. Several universities have also closed their language departments and there has been a 7% drop in pupils in England, Wales and Northern Ireland taking GCSE language exams in the past year.
Roy Allkin, chair of the ATC – the leading professional body of the UK's £1 billion language sector – is calling on senior Government figures to recognise the vital importance of languages in schools and colleges in helping secure a prosperous Britain following EU withdrawal.
He said: "It's a big worry that fewer young people have the opportunity to study modern languages. There could soon be fewer translators in the UK, and this is bound to affect our global trade. We should be investing in upgrading our ability to understand and engage with people internationally. The Department for Education needs to take action before it's too late."
One ATC member – Manchester-based LK Translations (LKT) – has been taking its own steps to ensure the next generation of translators are encouraged to enter the industry by running a unique academy to develop newcomers to the business.
Director Louise Killeen, who has seen LKT grow from strength to strength since she founded it in 2004, said she wanted to give something back to the industry and recognised how difficult it can be for newly-qualified graduates to step into the world of translation for the first time.
Now the success of its Translator Academy has helped it win the prestigious Business of the Year Award (under £1m turnover category) in the seventh annual Rochdale Business Awards last month.
Louise said: "We were thrilled our company success was recognised at the awards. We're working in a fast-growing sector and entering the professional translation world is a daunting experience, so we set up our Translator Academy to give graduates joining us the support they need."
She said she also recognises that freelancers who are new to the industry might not be in a position to move to the North West of England, so LKT is developing its Translator Academy to offer coaching, mentoring and training on a remote basis.
Her company, which specialises in technical translations, has three trainees on its current academy programme and also has an on-going recruitment drive. All new starters work through an initial training programme and are assigned an experienced colleague as a mentor.
Louise added: "Being tasked with a translation that would have taken a week at university, but now has a time limit of an hour, can be a shock to the system. The first on-the-job stage of training involves quite literally getting a trainee up to speed, with the mentor there every step of the way."
Siobhan Gorrie, now Lead Translator at the company, went through the Translator Academy when she joined LKT in 2006. She said she hadn't anticipated how steep the learning curve would be after moving straight into the business from a postgraduate MA in translation.
"Working as a translator in the real world means considering so much more than just dealing with the linguistic side – it's about communicating with clients, being aware of costs and timings and following the right procedures for project administration," she said.
"Despite the Translator Academy being in its early days, I was assigned a trainer who examined all my work and gave me in-depth feedback, ensuring my translations were at a consistently good standard before I was allowed to progress. More than a decade later, I'm still here and I've had the opportunity to on pass the knowledge I gained."
The Academy also equips its trainees with the skills they need to establish themselves as a freelance, including Helen Eden, now a freelance translator in Lancaster. She went through LKT's Academy after finishing her MA at the University of Westminster.
She said: "When I started at LKT I was excited to finally be in the world of work after university. However, in all honesty, it was a complete shock to the system. While my MA course had taught me a lot about translation technique, the pace was a real struggle. I realised there was still a lot to learn.
"At LKT I received a great deal of training and support, which improved my style and accuracy as well as my speed and efficiency. Juniors can only progress when they can work reliably and consistently at the required speed. Reaching this level gave me confidence, which was something I needed before I could consider going it alone.
"While working freelance is often the ultimate goal for 'wannabe' translators, it is important to participate in proper training and learn from peers, which is where LKT comes in."