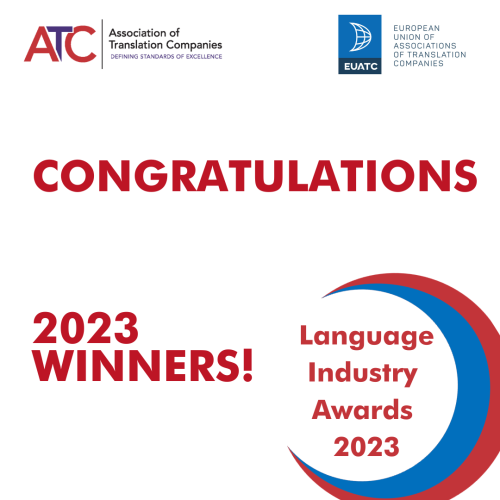 Huge congratulations to the winners of the 2023 Language Industry Awards! Your dedication, professionalism, and skills drive the industry forward.
ATC Company of the Year Award
Winner: Bla Translation
Welsh translation company Bla Translation has developed from the status of sole trader in 2012 to one of Wales' largest and successful translation companies over the last decade – increasing turnover and profit year after year consistently.
At the core of Bla Translation's business is the determination to support its staff through professional and academic success, and to support its clients with content as diverse as national opera companies' repertoires, to supermarket straplines and political issues relating to climate, gender identification and pandemics.
Many of Bla Translation's clients have come through word-of-mouth recommendations. In the past few years, Bla has been through a steep learning curve in strengthening and speeding up its ability to complete subtitling-transcription-translation projects as they provide an ever increasing volume of projects for universities, colleges and business management providers focusing on multi-media and video communication.
The economic climate has placed a great deal of pressure on the translation sector in Wales, the UK and beyond. During Covid, Bla Translation's turnover increased by 20% with large health and business contracts. Although bilingualism in Wales is only mandatory within the public sector, through its strong presence Bla Translation has managed to pivot to tourism to support clients working hard to entice local audiences to make use of local attractions and amenities.
Bla Translation has grown and become more visual as advocates of the Welsh language and the benefits of bilingualism in Wales, encouraging Welsh businesses to promote and use the Welsh language in their work.
Bla Translation's home Anglesey is an island where economic prosperity and employment into skilled jobs are weak. Bla Translation is proud to be able to be a strong employer on the island – the vast majority of staff are Anglesey people and it is vital to the company to offer employment to people who can sustain and develop the language in their sphere of work and build upon their academic success.
Commended
IMD Legal Translation and Interpreting Ltd
Judged by Allison Ferch, GALA
ATC New Member of the Year Award 
Winner: Clear Voice Interpreting Services
Clear Voice Interpreting Services deeply pride themselves on being a social enterprise that proudly donates 100% of its profits to its parent charity Migrant Help.
Clear Voice has continued to place incredible importance on its social value whilst experiencing massive economic growth, meaning that as the business grows, its dedication to increasing its social impact is able to grow in unison. Their commitment to social impact can be seen across countless areas of Clear Voice, something that drives both staff and clients to feel integral in fulfilling our social commitments. In the past year, Clear Voice has become a signatory on the Together With Refugees Coalition and the City of Sanctuary Pledge – publicly illustrating its dedication to breaking down language barriers by providing the tools for communication whilst ensuring that all our profits help support victims of displacement and exploitation.
In the past two years, Clear Voice has grown its interpreting work by 45% and its client base continues to grow and diversify.
Commended
IMD Legal Translation and Interpreting Ltd
Judged by Geoffrey Bowden, EUATC
ATC PM Team of the Year Award
Winner: Dialogue Language Services International
Dialogue's PM team go above and beyond their immediate roles to help clients, suppliers, education establishments and charities.
Having previously outsourced AV and SEO services, the PM team has initiated and underwent extensive training to be able to offer multimedia localisation and SEO services in-house, helping clients to save on budgets, retain major clients and attract new ones.
The Dialogue PM team boasts a 98% client satisfaction rate, going the extra mile to meet and exceed client expectations. Supporting suppliers and promoting fair rates is at the core of the PM team's ethos, aligning with the company's values and its BCorp journey. This year, the PM team has also reached out to schools to talk about how languages can help build a successful career, open doors, and promote inclusivity and boost intercultural respect.
Commended
Judged by John Terninko, ELIA
ATC Project Manager of the Year Award
Winner: Stefania Orlotti, Atlas Translations
Stefania has buckets of professionalism, dedication, and industry knowledge.
The support that Stefania provides to the rest of the Atlas team is invaluable. She is responsible for managing the supplier database, and the information of the many thousands of translators and interpreters it contains, coupled with fielding their questions and resolving any issues they may have. She is also in charge of arranging and organising training courses for our suppliers, enabling them to improve their CPD. Stefania is the resident Trados expert, and has led internal workshops to train up other members of the team.
Unflappable in the face of demanding situations, Stefania calmly deals with her projects profitably, with confidence and consistency. Stefania is a truly dedicated member of the Atlas team, whose skills, good humour, and kindness make her a pleasure to work with.
Commended
Helga Pelin, Travod
Denisa Jacobsen, Global Lingo
Judged by Anikó Pető-Mordovski, Women in Localization UK Chapter
Ethical Business Award
Winner: AJT
For AJT, looking after people starts by creating opportunities, and one of its missions is to nurture the next generation of language talent, paying a fair working wage, and fostering an open and safe environment.
AJT believes in open, respectful and transparent collaboration, creating a workspace where all freelancers can come together to collaborate on projects.
As a fully remote company, AJT's employee-led Green Committee fosters environmental stewardship in the home office. The company has signed up to SME Climate Hub and are starting their journey towards carbon accounting and net zero.
To balance profit with purpose, AJT consciously operates a low margin model which ensures that the vast majority of clients' translation budgets go to the linguists, which helps AJT to attract and retain talent and creates a more sustainable relationship with the company's talented freelancers. AJT provides complete financial transparency across the company, which holds it accountable and empowers every team member to positively contribute to our bottom line. AJT also practises ethical client screening, checking the financial health of new clients as well as checking that it is happy to support the product or services the client offers.
AJT is a one of the first B Corporation companies in the language service space, and certified to meet high standards of social and environmental performance.
Commended: Creative Words
Judged by Christl Schraut, European Investment Bank and International Criminal Court (retired)
EUATC Association Initiative Award
Winner: Meet Central Europe
Meet Central Europe is an annual regional conference focussing on vendor management with content specifically tailored to appeal to language service companies, freelance talent and end purchasers.
Meet Central Europe is a joint submission from four EUATC national associations:
               Austrian Association of Translation Companies
               Association of Czech Translation Agencies
               Association of Professional Language Service Providers (Hungary)
               Association of Translation Companies of Slovakia
Judging the EUATC Association Initiative Award, the judges were impressed by all the collaboration happening right across Europe and it was genuinely difficult to separate the nominations from the dozen associations. Meet Central Europe ticked so many of the boxes, particularly when it comes to collaboration, it managed to edge out all the other truly impressive initiatives to win the Award.
Commended
Belgian Quality Translation Association
Association of Professional Language Service Providers (Hungary)
Associazione Nazionale di Imprese di Servizi Linguistici (Italy)
Judged by Carrie Livermore Fischer, Women in Localization, Allison Ferch, GALA, and Josef Kubovský, Nimdzi Insights