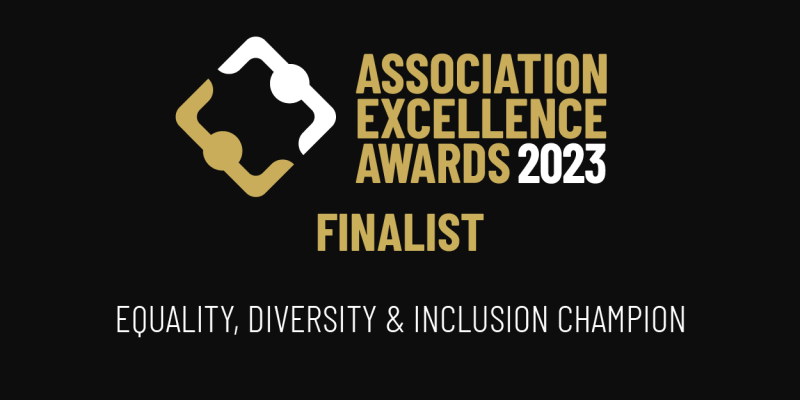 The ATC has been shortlisted for the Equality, Diversity & Inclusion Champion Award in the prestigious Association Excellence Awards 2023, for its initiatives, activities and research collaborations around EDI in language services.
The Association Excellence Awards recognises the essential work that associations, trade bodies, unions and professional organisations conduct on behalf of their members.
Together with the ATC, five other associations compete in the final of the EDI Champion category: Association of University Directors of Estates, British Cycling, The Institute of the Motor Industry, and The Walking Football Association.
The ATC's Chair Ruth Partington is deeply moved with the nomination:
"By default, the language services industry is multilingual and multicultural, and nowhere as diverse as in the UK. However, despite the evident multiculturalism and the clear need for supporting a culturally and linguistically diverse workforce, there is next to no research – and very little formalised understanding – on EDI in the language services industry, including the pathways towards equitable access to professional careers for speakers of community languages. We believe that through increased understanding and visibility of the EDI and community languages landscape, we can pave the way for more equitable, diverse and inclusive future."
The ATC tackles the industry's collective needs through research and through engagement with public sector commissioning organisations.
The ATC's original research and public sector engagement help identify pathways towards diverse, inclusive translation and interpreting professions, and support a sustainable ecosystem in the procurement and provision of language services.
The ATC actively initiates and supports original EDI research that builds our understanding of the equality, diversity and inclusion landscape in the language services industry. In 2023, the White Rose College of Arts & Humanities awarded the ATC and the University of Leeds funding for collaborative doctoral research on equality, diversity an inclusion in translation and interpreting within the UK language services landscape.
The Association Excellence Awards Ceremony takes place in London on 3 November 2023.