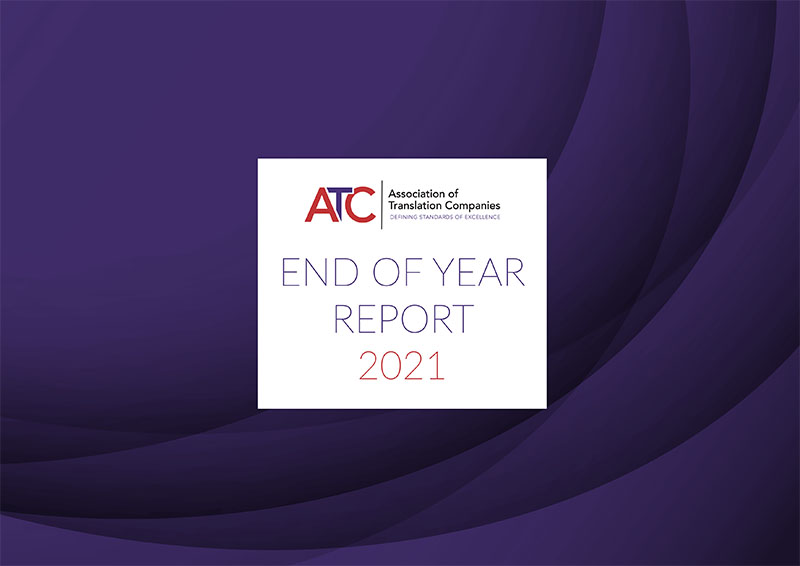 ATC End of Year Report rounds up 2021
The ATC's CEO Raisa McNab summarises 2021 – download the End of Year Report here.
"Today, the ATC is a community of 214 language service companies and 10 industry partners.
In 2021, we had 20 new member companies, and now represent 40% of the UK's language service companies. In everything we do, we work closely with our umbrella organisation the EUATC, and our stakeholders in the academia, public services, and the associations and organisations representing translators and interpreters.
Over the past two years, the ATC has been running entirely remotely.
We have put on hold our annual conference, the Language Industry Summit, and our one-day networking events. We have had nine Council Meetings entirely remotely. We have met members of our community solely via Teams, Zoom and Remo.
But that doesn't mean we haven't come together.
In March and April, we showcased collaboration between language service companies at the Stand Out – Be Outstanding Competition and Networking Event.
In July, we workshopped with Charity Translators on best practices for providing language support to the Charity sector.
By September, four MA students from the universities of Leeds, Surrey and Portsmouth were working on Collaborative Dissertation Projects with the ATC.
And in November, we joined our Partners at a Tech Round Table to discuss trends, challenges and opportunities in the technology landscape.
But perhaps the highlight of the ATC year 2021 was the publication of the LO-C 30 Report at our launch event in May, an influential new research study proving – via robust statistical methods – that SMEs making use of language capabilities are 30% more successful in exporting than those who do not.
And we have also provided our members with business support and guidance that is relevant and topical at a time when it was most needed, from post-Brexit VAT and immigration rules to IR35 and remote interpreting, via GDPR.
But enough is enough of remoteness – or that's at least what I would like to say. But, a new Covid variant is just emerging, and the new year suddenly seems more uncertain than it was just a few weeks ago.
In 2022, if we can, we will kick off face-to-face networking events again. If not, we'll do them remotely. If we can, we'll bring together our public sector stakeholders around an actual round table. If not, we'll do that remotely. If we can, we'll have an amazing Language Industry Awards Gala Dinner. If not, we'll have it remotely.
One thing that I do know we will do is to launch an exciting new venture.
In collaboration with our dear friends at Elia, the European Language Industry Association, we have developed a totally new, all singing and all dancing language services project management course which will be launched in early 2022."