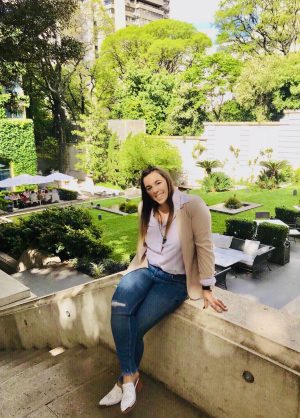 Who are you?
I'm Lara Tatiana Vazquez from Argentina, but I´m based in Spain. I have a degree in Technical, Scientific, Literary and Sworn Translation. In my free time, I enjoy travelling wherever I'm given the chance to explore new places and cultures.
What do you do?
I'm part of Gespoint Software, and Gespoint develops and introduces the Management software (ERP) specifically in Translation Companies and Freelance Translators. We are experts in this area, and we have done hundreds of installations in Translation companies all over the world.
Our goal is to improve the efficiency of our clients. We create technological solutions so that the translation companies can grow even more. We help companies to increase their sales, reduce costs and be more competitive. We create a software focused in increasing the productivity and control of Translation companies with total adaptation to the needs of each company.
In Gespoint, I help people and companies to introduce them to this amazing and practical program. I´m one of the first contact a potential client has in the company, and I am also with them from the beginning with the demos and trainings, so they feel comfortable with us and take advantage of the program. Once the implementation is done, we keep in contact to solve any doubt they may have.
What emerging key trends do you see?
The language services industry is a consolidated industry, but it is also growing. It is very dynamic with thousands of companies trying to be different and gain new clients, but they also need to keep the clients they have. The key to be different is to take advantage of the new technologies specifically adapted to our translation area through the quality, efficiency, quick response, and adaptation to the new opportunities (automatic translation, artificial intelligence, Business intelligence, etc.).
So, it is necessary to be excellent in the internal management to be competitive and different from the competence, and Gespoint is a powerful tool that will help you and your company to achieve this.
What about challenges?
Language service companies face today big challenges. Customers are more demanding every day, asking for quality work, short delivery times and very adjusted prices, so it is necessary to have an appropriate management program to be ready. This will also allow you to have control and organize your company.
Another challenge is that translation companies have to adapt to the new trends (as I mentioned before, the automatic translation, artificial intelligence and Business intelligence are some of the new challenges). The key is to turn these challenges into opportunities and use them in our favour. Taking advantage of the technological tools, such as Gespoint, is the key to achieve this goal. It automates the internal processes, saves time, avoids errors and data upload duplication. The quality of the management is improved by providing a centralized flow and instantaneous information, which will increase the business results.
Where does the ROI come from?
You can get the return of investment in three different ways with Gespoint, and the results are very easy to detect and measure:
Gespoint has an integrated CRM with which you can turn the clients´ and potential clients´ relationship into incomes because it gives you practical information to customize the relationship, predict their necessities and detect good commercial actions. This will allow you to get new clients in a more efficient way and reach more commercial and profitable transactions with the pertinent tracking from the campaigns you may have done.
Gespoint also allows you to increase the productivity by automating processes and connecting your commercial transactions, related to finance and projects. This means an increase in the efficiency, and a reduction in direct cost. Data load duplication is removed, so you have immediate access to the information to speed up the decision making and the response to clients. This gives you the possibility take on more work in a more profitable way.
And of course, a tool such as Gespoint, adapted to International Standard ISO17100 allows the translation companies to foster their clients´ loyalty in the project management according to the standard. We know that satisfied clients not only increase your business by hiring more services, but they can also recommend you to other companies, and it means more incomes.
Regarding the way to obtain the ROI, in Gespoint, it is automatic, immediate, and updated instantly, since it has different indicators of company results. The program takes into account, not only the margins of each project immediately at the moment that the project is managed (even when the projects are multi-currency) but also takes into account other information: Internal cost per employee and of course other expenses inherent to the Translation company itself
What's your 2022 highlight?
Our highlight for this year is to meet and reach more companies and let them know about all the advantages I mentioned before and the importance of having a management software (ERP). Our goal is to make sure that they really get to know the program well so they can take advantage of it and be more organized and productive.
Get in touch?
You can contact me for more information, and I´ll be delighted to help you and solve any doubt:
E-Mail: lara.tatiana@gespoint.com
Mobile Phone: +34 638 354 847
Skype: live: info_174980/info@gespoint.com