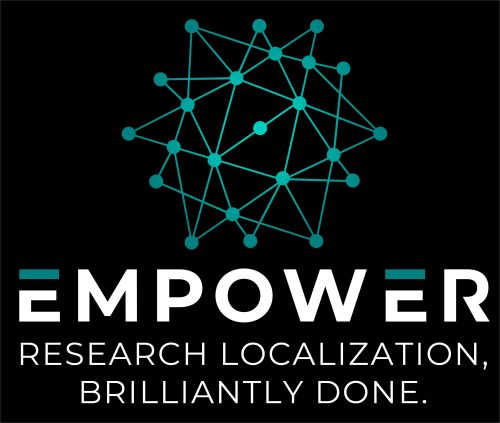 The ATC's Member of the Month in May 2022 is Empower Translate, an insight localization company working exclusively in the market research industry.
We caught up with Empower CEO and ATC Chair Ruth Partington, and Empower CCO John Temple, to talk about growth, building a global business, and industry engagement.
"The insight industry has experienced huge challenges resulting from the Covid pandemic, but also reaped huge rewards through increased market research needs in a constantly shifting landscape," says Ruth.
"Our role at Empower has been to support these changing needs through new, targeted services, and technological innovations. It has been a tough ride at times over the past couple of years, but one of continued growth and expansion into new services and markets."
Empower is a family-run business with headquarters in Wales, and a client base spanning EMEA, the Americas, Africa and APAC.
As a specialist in market research localization, Empower has consistently sought to build expert services tailored to the needs of the insight industry.
"For us, building global partnerships is about immersing ourselves in our specialist target industry," says John. "To develop truly innovative solutions, we must understand our clients' businesses like our own – and of course, we invest in building close relationships that have various touchpoints, including at industry events and through industry thought leadership."
A key element of Empower's drive for engagement is their work with industry associations.
In the language services industry, Ruth leads the ATC's strategic development and represents the ATC at the European Union of Associations of Translation Companies, the EUATC. Together, Ruth and John return to Elia's Executive Days year after year, for a few days of intensive focus on their business, in likeminded company.
Ruth is also heavily involved in the work of the Market Research Society (MRS) as a member of the Accredited Company Partners Council and the Representation in Research Steering Group. "The MRS is where the heavy lifting of the insight industry happens, and where companies and organisations involved in market research come together," explains Ruth.
"To me, the true value of engagement is born out of collaboration. This year, I'm excited to bring my two passions and areas of expertise together in the form of an ATC/MRS checklist for buying translation services, which is due to be published in the summer of 2022."
Empower's innovative approach, international growth and industry engagement has been recognised with numerous awards, including Best Support Services at the MRS Operations Awards in 2020, and with the ATC's Innovator of the Year Award in 2021 going to Empower's Coding Manager Alexis Lopez-Gonzales.
In April 2022, Empower won a Queen's Award for Enterprise for International Trade, recognised for its excellence in international commercial success, and its outstanding growth in overseas trade.
"It is the highest honour to receive a Queen's Award for Enterprise," comments Ruth. "Particularly at a time of global and political change, we are proud to be recognised for our contribution to the UK's established commercial connections on the world stage."