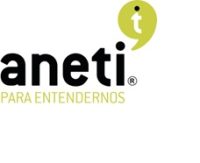 The ATC has signed a partnership agreement with ANETI, one of two national associations for translation and interpreting companies in Spain.
ANETI's President Arancha Caballero is thrilled about the new partnership:
"ANETI was founded by a group of forward-thinking language service companies, to create a space for LSCs to grow and develop, and to benefit from each other's expertise and experiences. Collaborations and partnerships form an important part of our work, and we are delighted to extend our international network to the Association of Translation Companies in the UK."
ANETI is one of the two associations for language service companies in Spain, alongside Asproset , the Spanish member of the EUATC.
"Far from being competitors, we feel that the two national associations complement each other. This autumn, we launched a joint market research project on the translation and interpreting sector in Spain, and look forward further collaboration projects in the future," explains Arancha Caballero.
ATC CEO Raisa McNab welcomes the opportunities the new partnership with ANETI brings:
"The ATC's network extend to every corner of Europe through our membership of the EUATC, and we also seek to develop connections with other industry associations – to open up collaboration opportunities for our member companies, and to stay in touch with associations in the rapidly changing European market."