Industry expert auditing and certification services
ISO 9001:2015
Quality management system standard ISO 9001 is the world's most recognised and respected quality management aid. The potential benefits to an LSP of implementing a quality management system based on ISO 9001 are:
The ability to consistently provide products and services that meet customer and applicable statutory and regulatory requirements;
Facilitating opportunities to enhance customer satisfaction;
Addressing risks and opportunities associated with its context and objectives;
The ability to demonstrate conformity to specified quality management system requirements.
ISO 17100:2015
Translation services standard ISO 17100 specifies requirements for all aspects of the translation process directly affecting the quality and delivery of translation services. It includes provisions for translation service providers (TSPs) concerning the management of core processes, minimum qualification requirements, the availability and management of resources, and other actions necessary for the delivery of a quality translation service.
The standard is intended for implementation by TSPs of any size.
ISO 18587:2017
ISO standard 18587 on machine translation post-editing provides requirements for the process of full, human post-editing of machine translation output and post-editors' competences. The standard is intended to be used by TSPs, their clients, and post-editors.
ISO 18841:2018
Interpreting services standard ISO 18841 specifies the basic requirements for the provision of interpreting services. Additionally, it provides recommendations of good practice.
ISO 20228:2019
Interpreting services – Legal interpreting standard ISO 20228 establishes the basic principles and practices of legal interpreting services, and specifies the competences of legal interpreters. It also describes the various legal settings and provides recommendations for the corresponding interpreting modes.
The standard is applicable to all parties involved in facilitating communication between users of legal services using a spoken or signed language.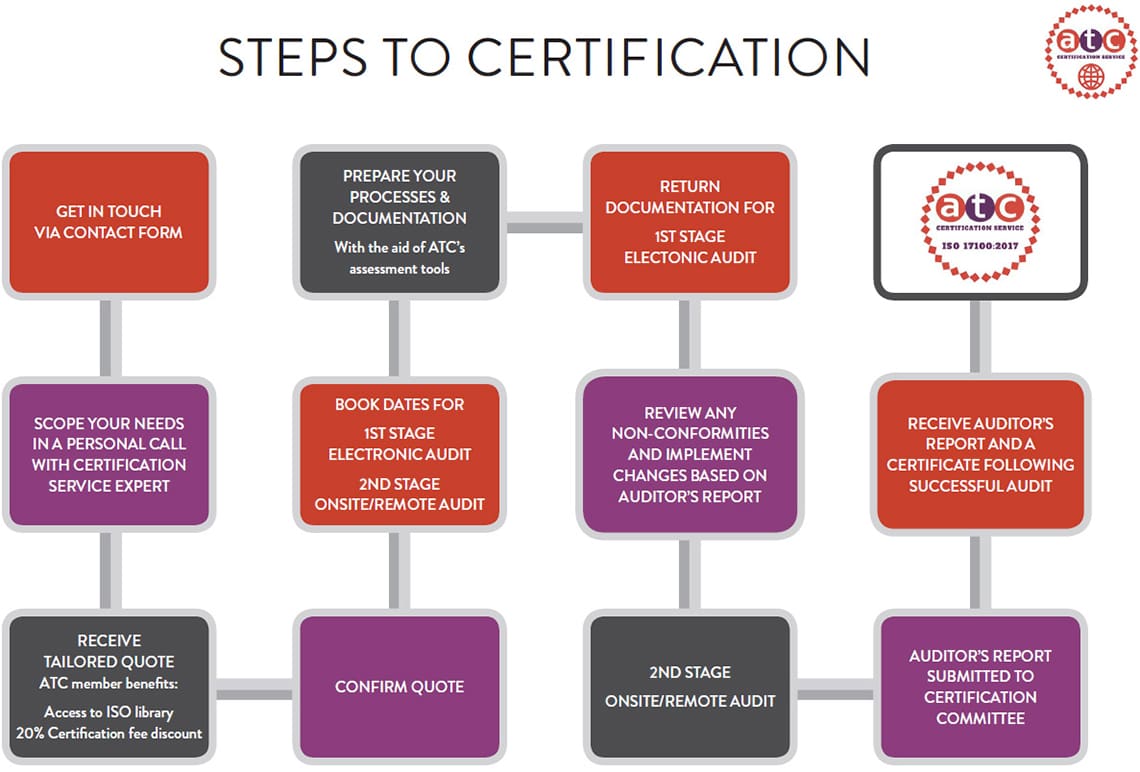 The first step in providing you a tailored quote is to have a short free consultation call.
You can call the dedicated ISO Certification Service telephone number on +44 20 3603 5373 or email office@atccertification.com