The ATC's Immigration Analysis
The UK is no longer in the EU and a new, stricter immigration system will be put in place in stages from January 2021.
The ATC and its members have actively campaigned to secure continued access to the linguistic skills of translators, interpreters and multilingual staff to language service companies and the UK's public and private sectors. Our aim is to ensure that the route to these skilled roles remains accessible post-Brexit.
The ATC's Chief Executive Officer Raisa McNab has analysed the UK Government's latest policy statement and here clarifies what it will mean for language service companies in the UK.
To do in 2020: recruitment and Settled Status
The most important thing to mention is that freedom of movement remains in force throughout 2020. The UK and the EU have entered a transition period during which EU nationals may continue to come to the UK to work.
Any EU nationals who are in the UK before the end of 2020 are eligible to apply for Settled Status. Make sure that your employees apply for Settled Status sooner than later, and absolutely before 30 June 2021.
From January 2021, a new immigration system will be in place and recruitment from the EU will be more difficult, more costly, and more administrative than it is now, and EU workers will be treated the same as migrant workers from non-EU countries. Review your recruitment needs and recruit for EU employees in 2020!
Immigration from 2021 onwards
The shape of the UK's new immigration system is now emerging, following the publication of the Migration Advisory Committee's new recommendations, and the UK Government's policy statement on the implementation of a points-based immigration system from 2021.
You can read the Government's policy statement here and the MAC's full report here.
These are the key takeaways from the Government's policy statement and the MAC's recommendations relevant for UK language service companies.
A points-based system
Against the MAC's recommendations, the Government will implement a points-based system with a number of tradeable points being awarded to prospective migrant workers based on having a job offer, the skill level of the job, English skills, salary, education at PhD level, and whether the job has been designated as a shortage occupation.
Within the points-based system, immigrants must still be sponsored by a UK employer, as with the current Tier 2 visa scheme. The Government has indicated that they will work to streamline the process of sponsoring, and to reduce the time it takes to bring a migrant into the UK.
Salary thresholds
Upholding the MAC's recommendations, the Government will lower the required salary thresholds for skilled workers.
Recommended salary threshold lowered from £20,800 to £17,920 for "new entrants"

Recommended salary threshold lowered from £30,000 to £25,600 for "experienced workers"
Other recommendations
The Migration Advisory Committee has also made a number of other recommendations, for example, on expanding the definition of "new entrant" and the length of a new entrant visa, but it is unclear at this point whether or how these will be implemented.
The Government has also as of yet not commented on the salary required for "settlement" (i.e. permanent residency), typically applicable after 5 years. This is currently set at a high £35,800, with further annual increases – recommended by the MAC to be frozen.
What does this all mean for UK language service companies?
The new points-based system will become the route for UK language service companies to recruit non-UK employees. EU and non-EU workers can be hired without restrictions, but employers must apply for and maintain a sponsorship licence, and pay a number of fees related to sponsorship. Likewise, candidates will be liable for visa and related fees (e.g. health insurance), which may, directly or in-directly, end up being shouldered by their employer.
In recruiting workers from outside of the UK, the main issue for language service companies will remain the administrative and financial burdens of becoming a sponsor. The total cost of recruitment will be dependent on the fees set by the Government, and currently vary by the sponsoring company's size.
The recommended lower salary thresholds are a welcome development, enabling language service companies to roughly maintain current salary levels. However, the allocation of points within the new system quickly becomes a new barrier.
In practice, according to the allocation of points in the new system, a minimum of 70 points will be required. This means that unless translators and interpreters are designated as a shortage occupation, it will be virtually impossible to recruit for a salary less than £25,600.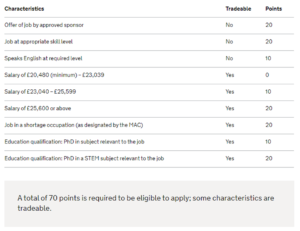 Source: https://www.gov.uk/government/publications/the-uks-points-based-immigration-system-policy-statement/the-uks-points-based-immigration-system-policy-statement
It is possible that further clarifications on the implementation of the points-based system will include different provisions for new entrants, which may change the situation for recruiting recent graduates, but this remains unclear at this point.
Separately, already planned changes to Tier 4 student visas now mean that students who have studied in a UK university may remain and work in the UK for two years after graduation.
Within the points-based system, the Government makes an additional points allocation for jobs in shortage occupations. This refers to the existing Shortage Occupation List (SOL), which was last reviewed in 2019. At this point, translators and interpreters were not deemed as a profession in shortage. The Government has now indicated that the MAC will be commissioned to produce a new shortage occupation list and to keep it under regular review, so there may be potential for translators and interpreters to be included in it in the future.
What about freelancers?
The end of freedom of movement will mean that no route to the UK will initially be open through the new immigration system for self-employed translators and interpreters. A possible new route may appear through a proposed "unsponsored" route, however, further details to be released later in the year will clarify whether this route will be applicable and useful for freelancers within the language services industry.
This has the long-term risk of disrupting the supply chain model for language services currently carried out by EU nationals who are UK-based self-employed translators and interpreters. This will primarily affect tightly controlled public sector work where assignments cannot be performed outside of the UK.
However, as the current supply chain already functions with freelancers from non-EU countries, (many of whom may have started a career in translation and interpreting via immigration routes and careers in another industry), it's unclear how much real long-term impact closing the EU route would cause.
In any case, the immediate short-term risk to the supply chain seems to be low, with existing self-employed translators and interpreters mostly already settled in the UK.
The ATC's immigration lobby
Over the course of the ATC's campaign, our main challenge has been to raise awareness of the unique services our members provide to the UK's private and public sectors. Our concerns have often been overshadowed by those of much larger industries such as agriculture and the food and drinks industry, who are expected to severely struggle with the planned immigration restrictions.
For that reason, it's hugely significant that the Migration Advisory Committee's new report specifically mentions translation (and by inference, interpreting) as a profession with high public value but relatively low salaries. It also states that translators are more likely to be migrants than workers in other occupations.
Language services are essential for international commerce. British exporters make use of a wide range of translation and interpreting services to bring their products and services to foreign markets successfully, ultimately contributing to the UK's competitiveness in international markets.
In our linguistically diverse society, translation and interpreting services also underpin the fair and equitable treatment of speakers of more than 300 different languages. The services of the UK's 1,600 language service companies ensure that the justice system, police and the national health service have access to the information they need, when they need it, and whichever language they need it in.
By its very nature, the language services industry needs mother tongue speakers of a wide range of different languages to provide the highest quality translation and interpreting services, with linguists recruited from outside the UK. Whilst native British linguists can supply some of the required language skills, there is a critical need to safeguard language service companies' access to mother tongue linguists required in the years ahead.
Translators and interpreters are in a completely unique position within the UK labour market. The language services industry intrinsically requires migrants, and its existing and expected skills shortages cannot be offset through domestic training, but require separate recognition and consideration from all other professions.