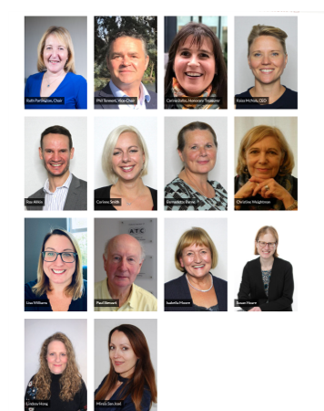 A Council of Peers
The ATC's activities are guided by its elected Council of peers whose members are owners or managers of ATC member companies.
Council members play a critical role in setting the ATC's direction and strategy, and in ensuring that its activities add value to member companies. They live and breathe the day-to-day life of a language service company, and experience the same highs and lows of running a business as all ATC members.
Council members are elected for a maximum of two four-year terms, by the Council's internal vote or a public election by ATC member companies.
The Officers
Heading the ATC's Council are three Officers elected from among Council members: Chair, Vice-Chair and Treasurer. Together with the Chief Executive Officer, they drive the ATC's activities and initiatives, and implement its wider strategies.
Chair Ruth Partington
The ATC's Chair Ruth Partington has just been elected for her second three-year term at the ATC's helm.
Founder and CEO of  EMPOWER Translate Ruth believes that translation is pivotal to promoting greater understanding between different creeds, cultures and races, and that the whole industry – from one- and two-man bands to larger companies – deserves a strong national and international voice for the role it plays in global affairs.
Vice-Chair Phil Tennent
The ATC's Vice-Chair Phil Tennent is co-founder and Commercial Director of Marsolutions.
Phil is a firm believer that being part of an association promotes integrity, encourages knowledge share, and endorses good practices. Phil values the support of an association that is driven for the benefit of its members and the language industry.
Treasurer Carina Balbo
The ATC's new Honorary Treasurer is Carina Balbo, taking the association's financial reins from Mark Robinson in October 2021.
As a co-founder and Managing Director of  My Language Hub Carina combines 25 years' experience in the translation profession and in foreign language teaching. Apart from the running a language service company, Carina is also a practicing linguist, and sits on the Council of the Chartered Institute of Linguists.