Overcoming language barriers to help vulnerable people in the UK and worldwide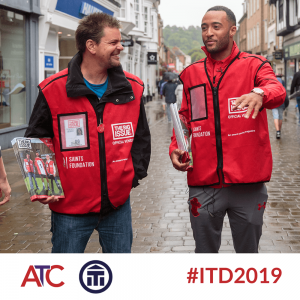 Nearly 400 residents of 19 nationalities were caught up in the Grenfell Tower fire in 2017, leaving 72 dead and 70 injured. The 223 survivors were left homeless and traumatised, their distress heightened by the lack of available help and advice in their native language – until translators stepped in to help.
Every day, communication barriers like these prevent vulnerable people in situations of poverty, conflict or humanitarian emergency from accessing the information or services they need. Yet everyone has the right to be understood and receive vital healthcare, education or emergency support in their own language.
Global not-for-profit organisation Translators without Borders (TWB) was founded in 1993 by translation and interpreting professionals to help create a world where knowledge knows no language barriers. In particular, it seeks to ensure that development and humanitarian organisations worldwide are more effective in delivering on-the-ground support by communicating with affected populations in their own language.
"What this means in practical terms is getting information to people when they need it, and in a format and language that works for them," says Aimee Ansari, TWB's Executive Director. "This could be translating radio scripts to help smallholder farmers in Mozambique protect their crops, or helping aid agencies reach women and children in Congo with vital information about Ebola prevention in local languages."
TWB takes a multi-faceted approach to achieving its vision. The team provides translation and interpreting support services through a global network of more than 28,000 translators and interpreters. It researches how key words are used in different social and cultural settings, and helps aid workers to strengthen their ability to communicate and provide information in locally relevant languages. Additionally, TWB provides glossaries of vital terminology – in both text and voice – in situations where knowing the right terms has the power to save lives. Beyond this, it also raises awareness globally of the importance of overcoming language barriers.
Supporting vulnerable people in the UK
Within the UK, TWB has played a key role in overcoming language barriers by supporting initiatives to help the homeless and by providing translations of important healthcare information into multiple languages. In particular, the TWB team moved swiftly to help the British Red Cross in its efforts to provide food, shelter and moral support to the victims of the Grenfell Tower disaster. The affected community was both multi-cultural and lived in one of the most deprived areas of England.
"When people are traumatised by a crisis, they need information in their own language more than ever," explains Ansari. "While some of the Grenfell victims had a good basic understanding English, it was critical to be able to reach them with information on how to find help in their native language."
The TWB team translated Red Cross leaflets into multiple languages including Farsi, Tagalog, Lithuanian and Russian. It also recorded voice information for the Red Cross 24-hour helpline, enabling the Red Cross to communicate with victims quickly and effectively, so that victims could access they help they needed.
Beyond this, TWB has helped the Big Issue Group to expand its activities to empower and support homeless people beyond the UK into Spain, Germany and the Netherlands, providing translations of articles into five languages. It has also translated essential information on managing pre- and post-natal pain for the Obstetric Anaesthetists' Association (OAA), enabling the organisation to provide online help and advice to women in 20 languages prevalent in the UK, including Urdu, Somali, Hindi and Polish.
"Not only did this allow more women in the UK to take steps to improve their wellbeing before and after pregnancy, it also bridged a vital knowledge gap on a global scale," explains Ansari. "The OAA soon realised that doctors and nurses worldwide were using our translations to help their patients – the information had simply not been available before in these languages."
Looking ahead, TWB will continue to support organisations in the UK and worldwide in responding to crises and disaster. As translation technology advances, it will also seek to ensure that rare and marginalised languages are included, so that many more people have access to good voice and text machine translation.
For more information on how translation and interpreting is supporting, people, communities and businesses in the UK please visit https://atc.org.uk/ or https://www.iti.org.uk/.